Inspiration About Jesus Christ And The Holy Bible For Sep 26, 2018

Jesus The Christ Is Wanting To Speak To You Through the Holy Bible
Inspiration: One Bible teacher explained that God always wants you in His perfect will but when you walk out from his perfect, you put yourself in a position to receive temptations from the devil. All of us can get tempted by fear, doubt and unbelief thoughts from the devil. James 4:6-8 says resist the devil by saying " NO in Jesus' name" to that temptation and saying "GO in Jesus' name" to the devil to leave your property all in Jesus' powerful name. God always leaves a way to escape temptation but He tests us to see if we love sin more than His laws. The more mature Christians see sin as destructive and hideous so they immediately hate the thought of sin and dismiss it out of their mind saying "NOT MY THOUGHT".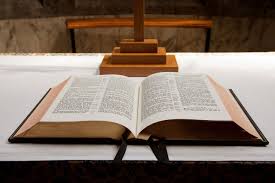 Click On This Link For Video Selections: https://servantsforjesus.org/videos-by-group/ .
Click On This Link For More Information: http://www.servantsforjesus.org .

Jesus The Christ Loves You And Has a Plan For your Life Surrender All To Jesus
tags: godliness, holiness