Scriptures and Prayers To Jesus Christ For Oct 6, 2018

Jesus The Christ Is Wanting To Speak To You Through the Holy Bible
Please read Ephesians 4:29 or click on this link and then choose the drop down for the Bible version and language you want: https://www.biblegateway.com/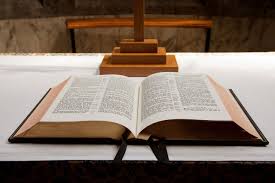 ( Click on this link for more English Bible Versions: https://servantsforjesuschrist.org/inspiration.aspx?b=1&d=281 )
Prayer: Heavenly Father, Let my speech be pleasing in your sight. Let my words build up people and never tear them or your organizations down. May I minister grace to the hearers. I ask you Holy Spirit to clean up my words to speak accurately and with out any perversion. In Jesus' name I pray.
Click On This Link For Video Selections: https://servantsforjesus.org/videos-by-group/ .
Click On This Link For More Information: http://www.servantsforjesus.org .

Jesus The Christ Loves You And Has a Plan For your Life Surrender All To Jesus
tags: love, faith, hope